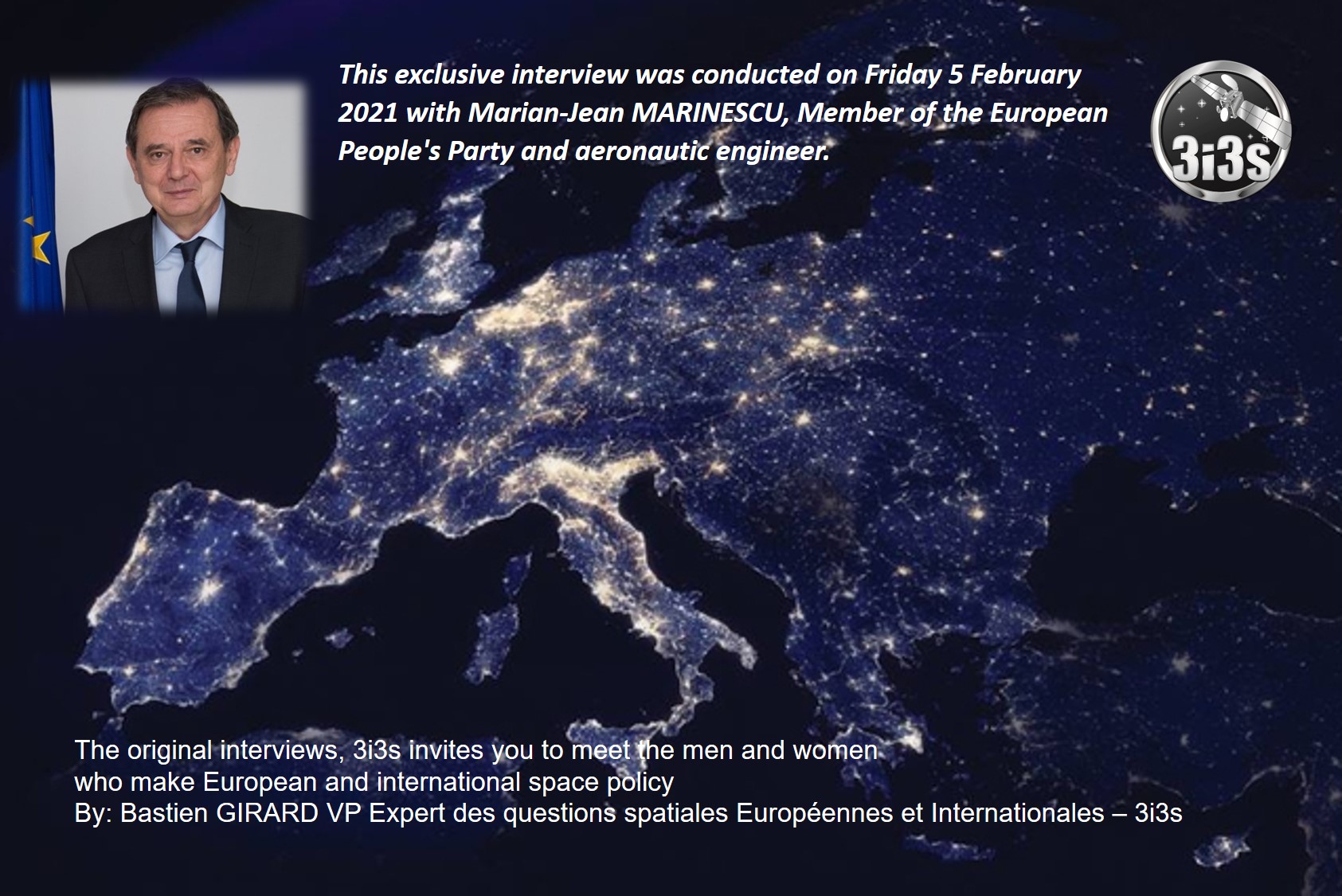 Through the reading of exclusive interviews, 3i3s invites you to meet the men and women who make the European and international space policy. The opinions expressed in these interviews are under the sole responsibility of the interviewees and do not reflect the position of 3i3s.
This first exclusive interview was conducted on Friday 5 February 2021 with Marian-Jean Marinescu, Member of the European People's Party and aeronautic engineer.
You are Chair of the Sky and Space intergroup and were previously rapporteur for Galileo. What did drive you to dedicate yourself to space? What does motivate an MEP to take such a step?
I am member of the European People's Party group (EPP) since 2007, since the moment Romania joined the European Union. The reason that I am interested in space and in transport – mainly aviation – is that I am an aviation engineer. I even participated to the medical check-up when Romania decided to send an astronaut to space in 1977. I was colleague in the Aeronautics College with Dumitru Prunariu. These are the main reasons. I am in this area as a profession. Aviation true, but space is just next!
What were the main issues at stake in the recent negotiations for the European space program? Do you have any regret about their outcome? Would you have wished for more ambitious prospects?
The new space program was negotiated by our colleague Massimiliano Salini, from the EPP group and member of the TRAN and ITRE committees as well. We are in both of them since 2014. Comparing to when I negotiated the space regulation in 2013 while I was rapporteur for Galileo, it was not so complicated, except for the budget. The Parliament asked for higher budget because we need to start replacing the Galileo satellites and it is clear that we also need money for research, as it should be modernized. The most complicated is that for Space Situational Awareness (SSA) and GovSatCom, there is almost nothing. €0.5 billion is nothing.
In 2013, it was also a money issue as the Galileo budget was cut from €7 to €6.3 billion. David Cameron, you may remember well this name, was the cutter of the budget dedicated to space, as well as the Connecting Europe Facility and other EU programs. However, we negotiated differently. I asked for steps to see if the money was well spent, in space and on the ground. It was the discussion of the time with Commissioner Antonio Tajani.
Then, I think we need to finance more space applications. In 2013, after a small war, I succeeded to grab some money to earmark for applications. I asked for €250 million and at the end I got one hundred. Nobody was speaking about ground at the time; the regulation was to be only about space. I said "We have a Picasso up there, but nobody can see it". So, let's make people aware of what is up there and what it is for. We spend so much money so we need applications to value this money. The GNSS Space Agency (GSA) has had to work on that, though there have been discussions on who should do what with the European Space Agency (ESA). It is a strange situation but I hope that the changing directorship of ESA will help sharing the work.
WE HAVE A PICASSO UP THERE, BUT NOBODY CAN SEE IT — MARIAN-JEAN MARINESCU.
In a recent article , you called for a stronger commitment of the European Union in space security. What did you mean by this?
I think that SSA is necessary and mandatory. I had once the pleasure to go to Kourou for a launch. We waited for four hours the Americans to tell us that the satellites were placed at the right position in orbit. This is one of the reasons we need SSA. If we want to be a space power, we need autonomy in knowing what is happening in space. Second, I think orbits will be very crowded in a short time because there are lots of satellites to be launched. We need to have a system of awareness. To put on a nutshell, we need first of all to know where to put our satellites. Thus, we need a map. Second, we need an awareness system as there are many debris. We need to put together such a system. We have still to decide if we need to finance a new system or if we need to evaluate a new governance offer, public-private, to use capacities that are already available on the market. Perhaps, we will only have to build one or a few satellites.
IF WE WANT TO BE A SPACE POWER, WE NEED AUTONOMY IN KNOWING WHAT IS HAPPENING IN SPACE. — MARIAN-JEAN MARINESCU.
Recently, I proposed a pilot project for space traffic management. It was not approved. The European Commission said that they wanted space traffic awareness. However, in my opinion, it is not the same. We need space traffic management. That is very clear. Also, regarding military, there are a lot of military satellites up there. In a way, there should be, as far as possible, a cooperation with the military. If not, we will have to develop a fully civil system which can nevertheless be useful to the military. They also do not want to lose their capabilities. It is good for everybody.
Would you like the European Union to become more involved in space, robotics and human exploration?
I would like to have human exploration but it would require a lot of money. I think it would be difficult for Europe. Looking at the knowledge, the technologies, the assets Europe has in space, we could do it. But again, we need evaluation of what the EU and ESA should do. We know that exploration was based on the competition between Americans and Russians. This is a matter of evaluation, if the investment is worth it.
Could you explain what is the role of the European Parliament in the European space policy and what is the purpose of the TRAN Committee ?
The role of the European Parliament in the European space policy is important. First of all, the European Parliament is very supportive to this policy. It is led by a few people strongly supportive, including myself, who think this policy is essential. The other members of the European Parliament are following because it is not a very known sector. They trust us in defining the parliamentary opinion. It is not true in all technology-related areas. If you look at fusion, like what is done in the International Thermonuclear Experimental Reactor in Cadarache in France, parliamentary opinions are much more divided. There is also a lot of money engaged and fusion could be a very good thing for energy, but it is controversial in parliament. For space, it is a very positive thing that we do not have similar disputes.
TRAN is looking very carefully to what is going on in space, as space technologies are very important for transportation activities. If you look at aviation, train and road transportation, EGNOS and Galileo are crucial. However, I was rapporteur in 2013 because I was member of ITRE as well. TRAN only produces opinions on the space program, but it is very supportive and it has power. Many members of TRAN are also members of ITRE. Salini, Virkkunen, me and others …
Do you think that space is still today too technical to enter fully into the democratic debate and should be more discussed between contradictory opinions?
A democratic support could be. Everybody wants to see what is up there. However, when you come to evaluate how much it costs, I do not think it will be a very large majority in favor of space. Look around you. We have a lot of things to do here, for people. This is the reality. Let's first resolve all the problems people face and then, perhaps, we can go up there. Now, I am rapporteur for Single European Sky after it was blocked during several years in Council. I am also rapporteur for Connecting Europe Facility and I am coordinator in TRAN for the EPP group, which means that I have to look at a lot of things. I also work with my colleagues in order to write position papers on modes of transport.
More broadly, how do you see the contribution of Romania and Eastern Europe in a field that has long been dominated by western European industries? According to you, is upgrading Eastern space economy synonymous with the downgrading of the western's position in the space sector?
I think we are now at a time when Eastern Europe is going up, although at different speeds. Bulgaria and Romania are not in the same position as Poland, Czech Republic, Slovenia or Croatia. We are very interested in Space. Romania is part of ESA. It participated in space research programs. I am confident that interests in space activities will keep going up.
After, there is not so much difference between East and West. Almost 10% of the European GDP is based on space technologies. Everybody here understands that we need to invest in this area. It is becoming a matter of security when you have 10% of your GDP based on space. You need to secure space infrastructures or you might face big problems.
WE ARE NOW AT A TIME WHEN EASTERN EUROPE IS GOING UP. — MARIAN-JEAN MARINESCU.
What is the greatest success of European space and why? Can Europe hope for other successes in the future?
GovSatCom should be the next greatest success of Europe. We are watching with interest what is going on in space for aviation. Now, we have positioning with Galileo. We have tracking, though private. Better systems will also help managing flights as corridors will narrow. Then, we need communications from space. It will increase safety, quality of service and so on.
It could be related to Thierry Breton's proposal but now, the private sector is developing very fast. You may only need governance to secure the provision of the service, as the capacities are there. We may only need a few satellites to support. It depends. If we are discussing about GovSatCom, Gov means government. Each government has its ideas. They want to be independent. Luxembourg has a satellite for communications. The main difficulty is to put them altogether.
I am really waiting for the new Horizon Europe partnership in space. A few years ago, I succeeded on convincing the space industry in Europe that we need public-private entities, like Joint Undertakings, for programs like Horizon Europe which provide funds to space research and innovation. They agreed. The project started but, unfortunately, the European Commission was not so happy with it. The former commissioner and the director for DG Research and Innovation did not like very much the Joint Undertakings.
Eastern European countries are desperate that young researchers are leaving to the United-States or Canada, but if a young researcher has a very good idea but no experience, he will have no access to the money granted by Horizon. He will have to take as partner a John, Pierre or Hanz who have experience. As a colleague told me: "You, in the East, you have the Cohesion policy and us, in the West, we have Horizon". Horizon is mainly providing money based on the experience of the applicants. Now, there are a few Joint-Undertakings but space is not there. As far as I know, because the work is led behind close doors.