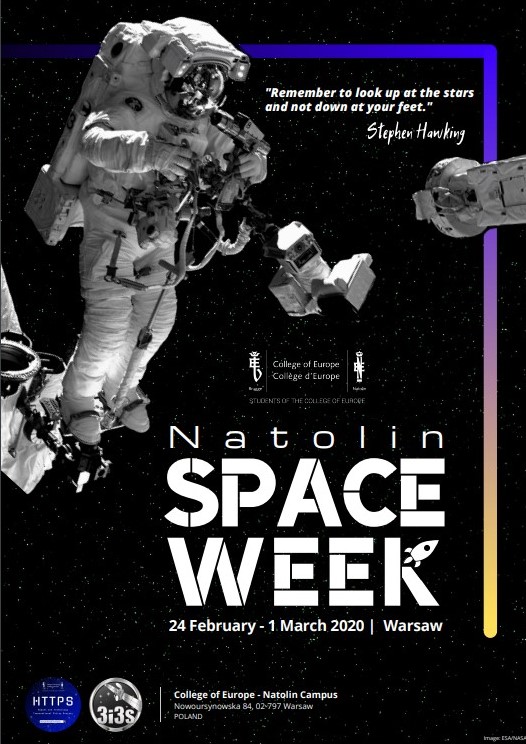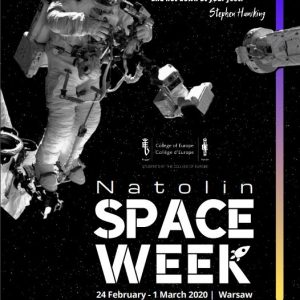 https://www.coleurope.eu/events/natolin-space-week
It is with interstellar pleasure that we announce the first-ever Natolin Space Week, which will take place at the College of Europe in Natolin (Warsaw) from Monday 24 February to Sunday 1 March 2020 thanks to the efforts of the students of the Humans and Technology Transnational Policy Society (HTTPS).
Some say that the sky is the limit, but what if the real limit were outer space? Should we care about tens of thousands of microsatellites being sent above our heads or about plans to mine the Moon? Can space activities enhance quality of life, protect the environment or ensure better security?
The Natolin Space Week will be a unique opportunity to discuss with high-profile  professionals and academics and form an opinion on these and many more space-related topics.
Our special guests include:
Prof. Dr-Ing. Johann-Dietrich WÖRNER, Director General of European Space Agency;
Ms Maria-Gabriella SARAH, Partnerships and Member States Relations (ESA);
Ms Jolanda VAN EIJNDTHOVEN, Deputy-Head of Unit (DG DEFIS);
Mr Emmanuel DE LIPKOWSKI, Space Policy Officer (EEAS);
Ms Isabelle TISSERAND, Vice-President of 3i3s Institute;
Ms Dimitra STEFOUDI, PhD student in Law at Leiden University;
Ms Lisa LACROIX, Deputy Science Attaché for Research and Breakthrough Innovation, Embassy of France in Germany, and College of Europe in Natolin Alumna.
Download the programme of the Natolin Space Week here.